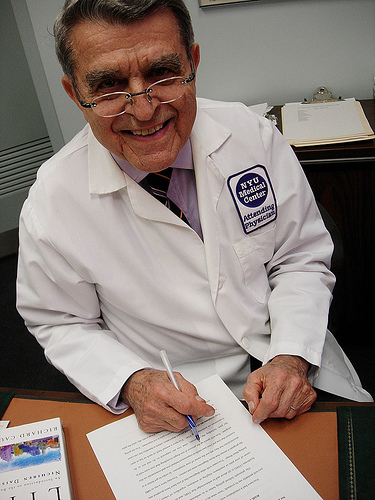 I just returned from a screening of a new documentary about Dr. John E. Sarno called "All the Rage: Saved by Sarno" here in New York City. For more than 16 years, this film has been a labor of love for the filmmakers, Michael Galinsky, Suki Hawley and David Beilinson.
As anyone who has heard me teach about the spine or come to see me for private sessions knows, I talk about the work of Dr. Sarno pretty much every time the subject of back pain comes up. I have even written about my own Sarno-realization experience of crippling back pain that finally abated after connecting with five years of pent-up rage over the sad state of my teacher, T.K.V. Desikachar.
Over the course of 60+ years of medical practice Dr. Sarno's perspective evolved as he sought lasting, reliable treatments for his patients with chronic pain. In the 1970s he arrived at the conviction that mind, body and emotions are inextricably linked and must be considered when it comes to understanding the true origins of the most common kinds of chronic pain. Those of us in the worlds of yoga or embodied movement may consider this a no-brainer, but the majority in the medical and psychiatric professions considered him an outcast and his views heretical. You can learn more facts of his life and practice on his wiki page, but the real story is in the thousands of lives he's touched and saved from unnecessary suffering and surgeries.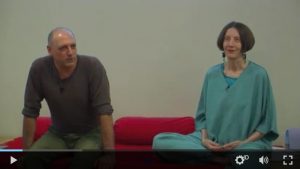 At today's showing of "All the Rage," I met the filmmakers and got to reconnect with an old friend Dr. Frances Sommer Anderson, a psychologist who worked with Dr. Sarno at the famed Rusk Institute for 34 years. She is pictured here in a screenshot from a video of Dr. Anderson's visit to The Breathing Project the week before Sarno's retirement in 2012. She was there to talk to my yoga anatomy students about the psyche/soma perspective on pain. That talk is part of my "Practices" course at yogaanatomy.net.
Poignantly, during the Q&A that followed the screening, one of the audience members who is a close family friend reported that Dr. Sarno, who would have turned 94 today (June 23, 2017), passed away yesterday. This important documentary is a fitting tribute to this fine man who dedicated his life's work to helping people live happier, healthier lives. I was pleased to be amidst a room full of his admirers when I learned this sad news.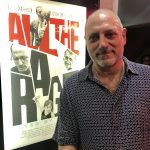 If you are in New York I highly recommend you get to a showing of "All the Rage." Considering reports I've received over the years from clients who had a life-altering experience just reading one of his books, this movie could help turn around the chronic suffering of someone you love. On the website for the film, you can learn how to sponsor a screening in your area.
If anyone has personal remembrances of working with Dr. Sarno, or has stories about help they may have received from any of his books, please feel free to post your comments below.