Leslie Kaminoff is a best-selling author and yoga educator.

He has over 40 years experience specializing in the individualized application of breath-centered, inquiry based practice.
Latest eSutra blog entries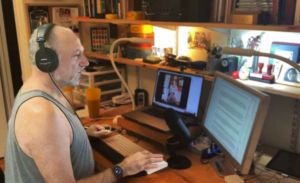 I have been mentally composing this message for a while now, but before I worked out any of the details,
Read More »

Today marks a major evolution to my 43-year career as a yoga educator. I am officially launching the beta* version
Read More »

In a temporal twist of fate, last week I got the news that my father, Harvey Kaminoff, passed away about
Read More »
Quite simply put, Leslie's a true yogi-genius, and a pioneer in his field. 
He gets right down to the core concepts you absolutely must know to be a truly effective teacher or student of mind/body movement. Leslie couples his immense knowledge with a refreshing ability to translate complex information into real-world terms and give us instantly applicable tools that make the world of anatomy, yoga and breath something we can deeply experience and understand
I count him as one of my most formative teachers, and each time I leave his classroom, my worldview (and body!) has been shifted in the most powerful ways. Run, don't walk, to his next session
Founder of Core Strength Vinyasa Yoga
When I wanted to upgrade the anatomy portion of our trainings, I turned to Leslie and Amy. My students love this training. It is the best course of its kind available to teacher trainers today.
Founder, American Viniyoga Institute
Leslie does an outstanding job of teaching his students to think for themselves and to question the more "classical" cues we've taken for granted as being correct for every body. For those who are looking for rote responses, this can be challenging — it's so much easier to walk away with a neat "if this, then that" check list than it is to be required to think. But "easier" does not produce "better", and for some this shift in thinking is more than they're ready to accept in their first encounter with it. Leslie's consistent, kind, and thoughtful manner makes this shift attainable when the student's ready for it.
Founder, Harmony Therapeutic Yoga