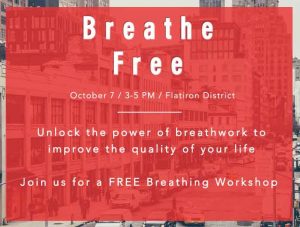 For the first post-studio-closing event sponsored by The Breathing Project, we are joining forces with BreatheFreeNow to present a free workshop in New York City on Saturday October 7.  Below, you will find the description of the event. Come join us, and please forward this information to anyone who is interested in learning how to have healthier breathing.
People suffering from chronic conditions and debilitating ailments such as asthma, COPD and advanced restrictive lung disease can serve as inspiration: they remind us that there is nothing more fundamental than the breath.
In times of stress, even those with healthy lung function are prone to breath restriction. When this occurs, we can benefit from learning ways to find our way "home" to our natural breath. Simple techniques that link breath with healthy movement can help us become more grounded – more free –  in ways that reveal our inherent connection to the universal fabric that sustains us, and each other.
We can all benefit from guidance on how to better align ourselves with our breath. This event is an opportunity to practice breathing with greater awareness, clarity and strength.
BreatheFreeNow and The Breathing Project are pleased to present a FREE breathing workshop led by internationally recognized breathing and movement educator, Leslie Kaminoff from 3-5pm on Saturday October 7, 2017.  It will take place at HUB Seventeen, beneath the lululemon store on 114 5th Avenue (at 17th Street), New York, NY 10011.
WHAT TO EXPECT
We will explore fundamental breathing techniques, led by Leslie Kaminoff, with an emphasis on linking breath to simple movements, revealing individual breathing patterns and finding ways to free ourselves from habits that may not be serving us.
Attendees will learn key concepts about the anatomy of respiration, deepen awareness of their breath, and practice simple exercises they can continue practicing on their own.
The workshop will be accessible and adaptable for all experience levels.
Participants must be able to breathe unassisted, comfortable with basic physical movements, and be able to sit and stand independently.
No special equipment is needed but please wear loose, comfortable attire.
To learn more and register for the event, visit: https://www.breathefreenow.org/