I've created this platform for anyone with a deep interest in yoga, and especially for those who work one-on-one with other people. Please read this entire message, as it contains vital information regarding this brand-new offering.
Over the past 40+ years I've been doing this work, it has taken many forms, from private yoga and bodywork sessions, to work in clinical sports and dance medicine practices, to the public clinics we ran at the Breathing Project studios in New York City, to international workshops in which I would demonstrate how I work with individuals. All those years of work have culminated in this project, which will allow me to share my experience, and the experience of other skilled practitioners, with a worldwide community.
The main features of The Breathing Project Community include:
A unique peek into the dynamics of private sessions via video recordings of one-on-one sessions between senior yoga educators and their students, along with running commentary, analysis and Q&A. New sessions will be uploaded regularly, along with archival material from past clinic sessions at The Breathing Project's New York City studio.
Premium content from my new podcast "Clinical Corner" in which senior clinicians and yoga therapists review and analyze video of them working with their own clients.
"The Union Sessions" 8o+ hours of teachings recorded by me during the 2020 lockdown in which I systematically cover "Breath-Centered Practice," Alignment Reimagined," and "Ongoing Topics in Yoga Education."
One-of-a-kind archival videos gathered over the past 5 decades of teaching and producing yoga events
Actively moderated community forum where subscribers can interact, ask questions, and get answers directly from me
All video and audio content will be fully captioned and searchable by keyword, which allows users to jump straight to the place in the recording where the keyword is mentioned
Downloadable transcripts for all video and audio
Here is the link to sign up for The Breathing Project. You will be asked to provide payment information, but you will not be charged for 30 days, so you can view as much content as you like for the next month, and cancel any time if you do not wish to continue your subscription. The cost is only $15.00 per month, or $99.00 for a year.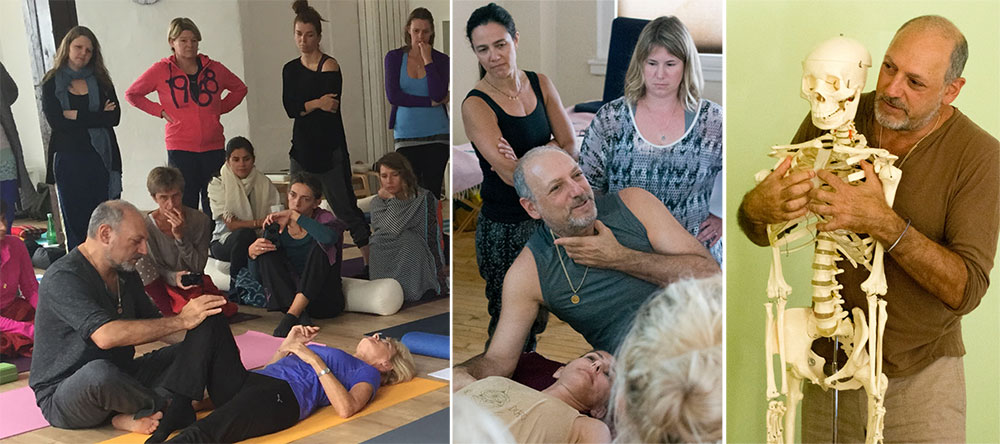 Here is what you can expect to find when you log in:
All 80+ hours of "The Union Sessions" will be available for unlimited viewing. The sessions are divided into three topics: "Alignment Reimagined," "Ongoing Topics in Yoga Education" and "Breath-Centered Practice." You can jump around based on searching for terms or topics, or you can binge them in the exact, systematic order in which they were taught by using the playlist "The Union Sessions – in order."
You will also find a few historic videos in the "Archives" playlist. There will be regular additions to the archives, and I'm keen to hear any comments or questions you may have.
The first recorded one-on-one session, "Basic Breath Work for Trauma" will be available for viewing. On Thursday, June 23 at 5PM New York time, I will host a live viewing of that video during which I will comment on the session and answer any questions you may have. The recording of that Zoom will then be attached to the session video as an ongoing resource. You are invited to register for the Zoom by clicking here.
Each week following our launch, a new (or archival) private session will be posted, either as above, with a live Zoom generating commentary, or as the premium version of my new podcast "Clinical corner," in which I interview another clinician about their work with one of their students/clients.
Apologies for the lengthy message, but I wanted to share as much as I can my excitement about this new phase of my teaching life. Since I am no longer traveling around the world as frequently to bring teaching to you, I am grateful for the opportunity for us to gather in this vital, virtual space and use this amazing technology to its fullest. I very much look forward to connecting with you through this latest incarnation of The Breathing Project.
*We are ready to hear any and all feedback from you regarding this BETA launch. As a new platform, we know that there will be bugs to fix, improvements to be made and suggestions for future features. Please note that aside from the first Clinic and Podcast videos, the transcripts (and thus the subtitles) of all other video content have not been corrected, so there will be numerous errors – especially with Indian names, Sanskrit and anatomical terms. At some point, when the community is large enough, I will offer free subscriptions to a few intrepid transcript editors, as it is a task too big for one person to accomplish.